Top > About DCC > Greetings from Director of Disease Control and Prevention Center
Greetings from Director of Disease Control and Prevention Center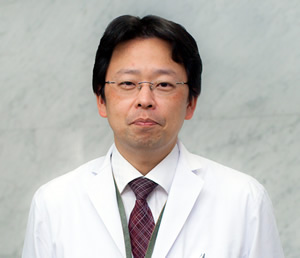 Fields of infection include not only individual health but also community, local healthcare facilities and global problem. In other words diagnosis and treatment of infectious disease is only one part. We must think about prevention and countermeasure to public health. To deal with infectious disease in right way, comprehensive efforts which taking multiple factors and those interactions into account are essential.
In Disease Control and Prevention Center (DCC), we focus on following 5 components to make comprehensive, multifaceted, advanced approach to both domestic and foreign infection.
To function as clinical referral center of infectious disease
To focus on development and training human resources of infectious field
To be source of information and build network
To become a research base of domestic and foreign infection
To practice field epidemiology
DCC consists of 3 divisions.
In Division of Infectious Disease Department, we handle inpatient and outpatient care, cross-departmental consultation and imported and general infectious disease.
In Division of Travel Clinic, we take care medical checkup, vaccination, guidance for chronic disease management and post-travel medical examination to maintain health care of travelers before and after flight.
In Division of Preparedness and Emerging Infections, we perform field survey of emerging and reemerging infections, diagnosis and treatment. Also we provide information and workshop for medical providers to contribute national infection control.
Our hospital is one of the 4 Designated Medical Institutions for Specified Infectious Diseases. As healthcare-associated infection control, we organize an infection control team and perform practical approaches by forming tight network with local medical institutions.
We conduct multi-institutional research, research for diagnosis and treatment of imported infections, Vietnam-based research of healthcare-associated infection and clinical microbiological research focused on genetic testing in laboratory. Also, in January 2013 we invited a specialist (profession of international infection control) to develop field epidemiology.
Our mission is to develop human resources who are successful throughout the world in this environment.
Norio Ohmagari
Director, Disease Control and Prevention Center